Velkommen til Rosenkrantztårnet! Her er en liten guide til hva du kan se i de ulike rommene.
Besøkstips
Du starter rundturen i tårnet ved å gå inn døren til venstre i resepsjonen og ned vindeltrappen til kjelleren. Når du har gått gjennom kjelleren går du opp noen trappetrinn til en smal gang. Til høyre, i enden av gangen, finner du fangehullet fra 1500-tallet.
Videre oppover i tårnet følger du den smale, bratte middelaldertrappen til topps. På veien kan du gå innom en vaktstue, et kapell, kongesalen og herresalen. På kanonloftet kan du gå opp tretrappen opp til utstillingen Kirkesenteret på Holmen. Her finner du også utgang til taket.
Når du skal ned igjen følger du vindeltrappen ned igjen til resepsjonen. På veien ned kan du gå innom herr Eriks kammers og fru Helvigs kammers. Du ender opp igjen der du startet i resepsjonen og har forhåpentlig hatt en fin tur i trange ganger og bratte trapper og vært innom de ulike rommene tårnet byr på.
Vi har tre utstillinger du kan se underveis:
Kirkesenteret på Holmen
Slaget på Vågen 1665
Rettssaken mot Anne Pedersdatter
Det er også noen rustninger, utstyr og klesdrakter utstilt
OBS! Pass på hodet underveis, der er lavt under taket/i døråpninger. Vær oppmerksom på ujevne trappetrinn. Pass på barna underveis, det er fort gjort å gå seg bort i tårnet. Vær oppmerksom oppe på taket, det er langt ned.
Forhallen
Rommet ble oppført av Jørgen Hanssøn på 1520-tallet. Han murte igjen Håkon Håkonssons hovedinngang til den gamle kongsgården via portkastellet rett utenfor tårnet. Jørgen åpnet først en ny hovedinngang der hvor du kan se restene etter en høy, buet portal på høyre side innerst i rommet. Han åpnet også opp et skyteskår du kan se oppe i det gjenmurte vinduet midt imot inngangen. Denne veggen var ytterveggen i Magnus Lagabøtes kastell fra 1270. Det tok ikke lang tid før han fant ut at dette ikke var godt nok forsvarsmessig. Han fikk da reist rommet du står i som et åpent forverk, med ny inngangsportal (dagens inngang) med vindebro. Han beholdt den først portalen også, slik at man måtte gå gjennom to portaler, begge med vindebro, for å komme inn i selve kongsgården. Du kan fremdeles se hullene hvor kjettingen til vindebroen gikk gjennom.
I Erik Rosenkrantz sin tid var rommet kjent som «kakkelstue».
Det hvelvede taket er fra 1700-tallet, da ble tårnet brukt som kruttkammer
Kjelleren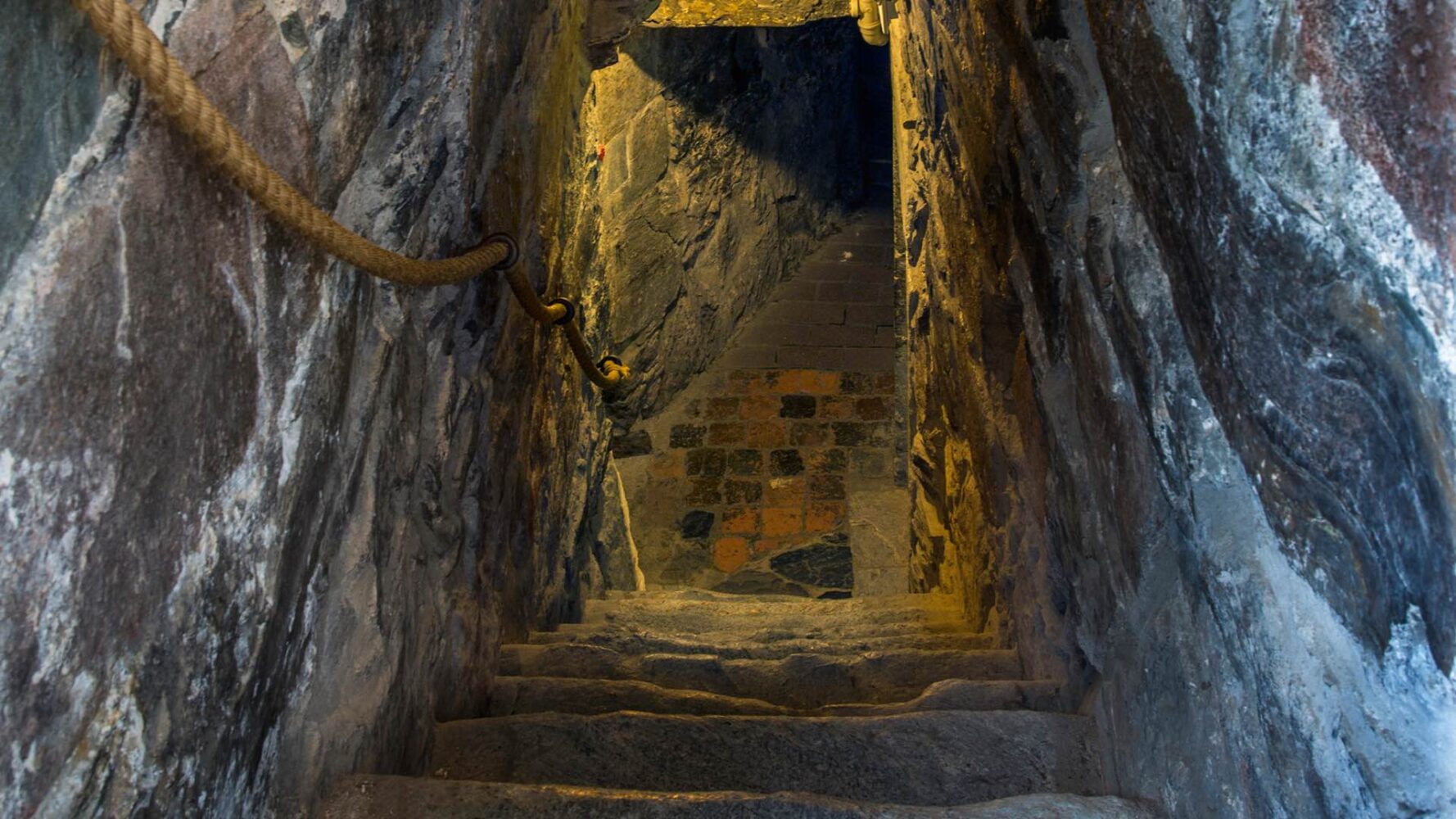 Du står nå i kjelleren i kastellet til Magnus Lagabøte. Rommet har den opprinnelige størrelsen på kastellet som ble reist i ca. 1270. Kjellerne ble antakeligvis brukt som lagerrom. Du kan se grunnfjellet som stikker opp som en del av gulvet.
Fangehullet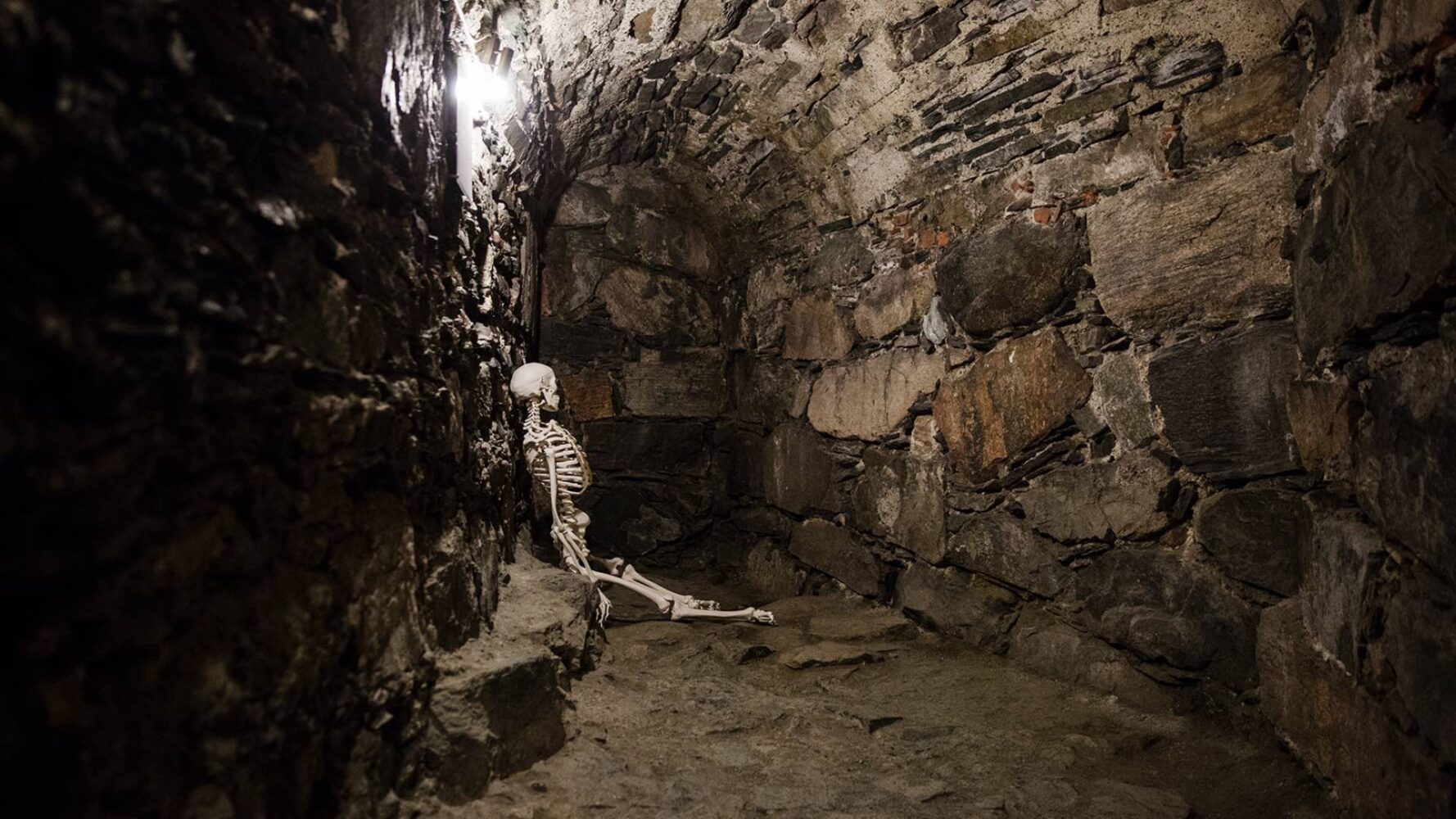 Fangehullet ble oppført en gang på 1500-tallet og var i bruk til ut på 1800-tallet. Eneste lys og luftekilde fangene hadde, var den lille åpningen du ser midt på ene langveggen. Vi vet lite om hvem det var som satt her, men vi vet at i 1563 satt det fem fanger her i 13 måneder.
Den gamle vaktstuen
Her oppholdt kongens vakter seg. De kunne gå ut døren til høyre og komme seg ut på vektergangen på ringmuren rundt hele kongsgården. Her kan du også se tydelige spor etter både Jørgen Hanssøn ombygging på 1520-tallet og Erik Rosenkrantz ombygging på 1560-tallet. Bjelken og bjelkehullene du kan se midt på veggene er fra Jørgens tid, da lå gulvnivået her. Den lave døren du ser midt på veggen på venstre siden er fra Eriks tid, han gjorde om på gulvnivået. Døren fører ut til en liten gang som gir tilgang til vindeltrappen.
Kapellet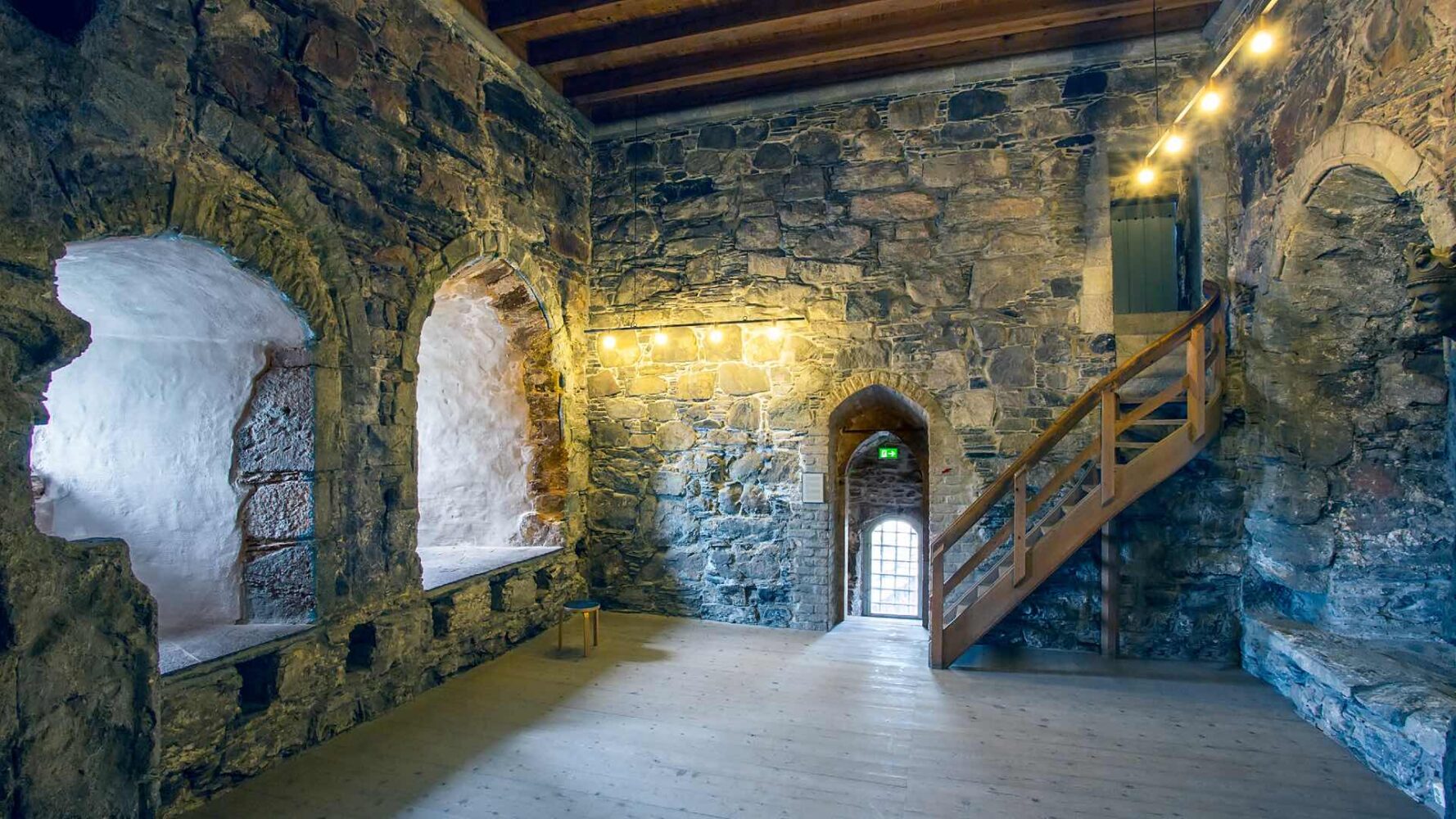 Det står i sagaen at Magnus Lagabøte fikk innredet sitt kapell vinteren 1273. Han var en from konge og innredet et flott kapell, med altervindu, fire store vinduer og et hvelvet tak.
Du kan i dag se restene etter alteret og vinduet, samt en piscina på høyre side. Du kan også se Jørgen og Eriks arbeider her, døren helt oppe på veggen er fra Jørgens tid, du kan også se spor etter bjelkehull på høyde med døren, det viser at gulvnivået lå her på Jørgens tid.
De store bjelkehullene du ser under de fire vinduene er fra Eriks tid, det samme er kaminen i hjørnet. Gulvet lå under Eriks tid på dette nivået. Erik fikk også satt en enkel dør inn i altervinduet, denne ga tilgang til en gang som igjen ledet til vindeltrappen.
Kongesalen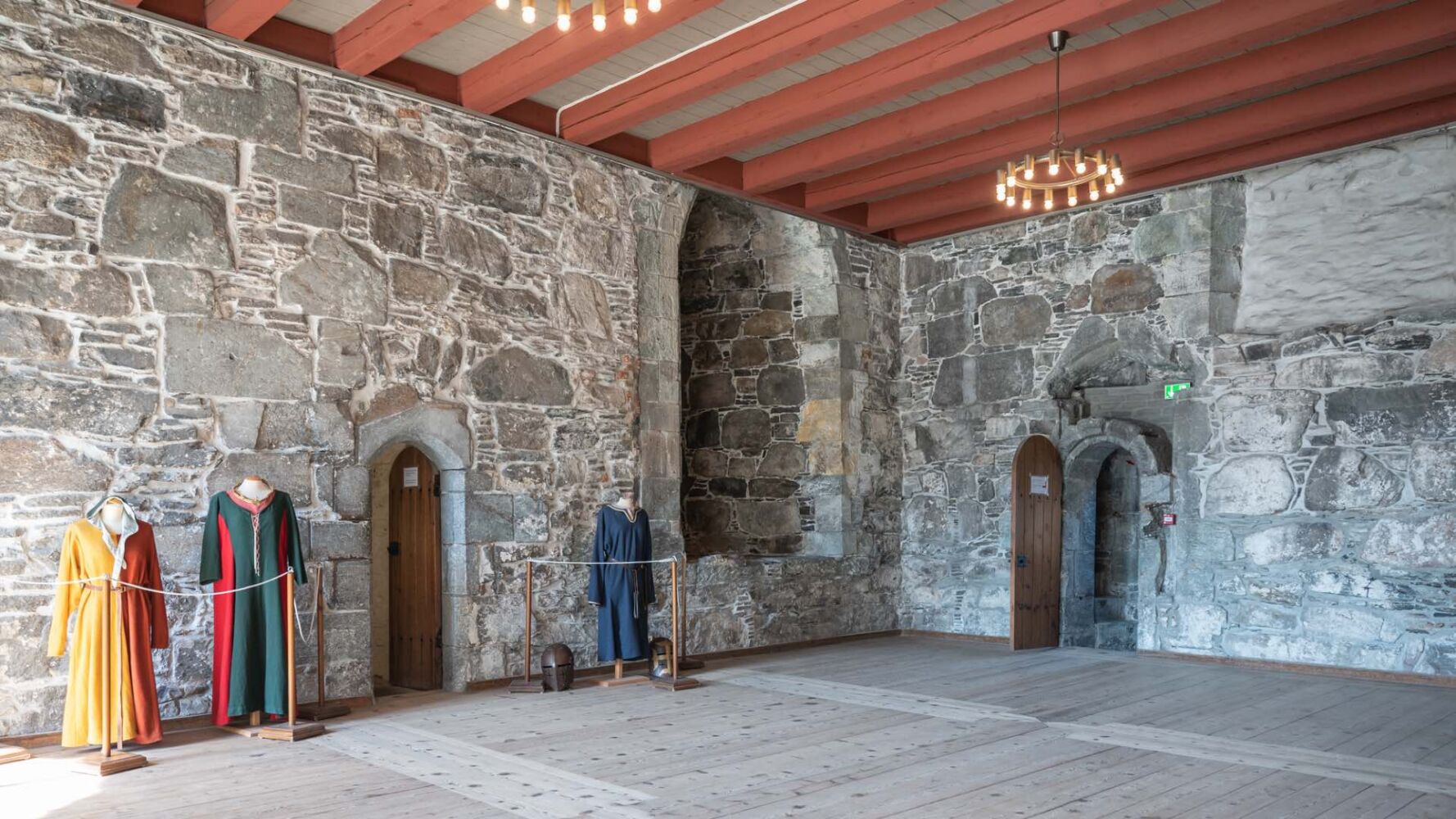 Kongesalen var Magnus Lagabøte sitt sovekammers. Det var høyt under taket, ser du opp mot taket kan du se at de gamle vinduene forsvinner opp under taket. Rommet her er større enn de rommene du har vært i til nå. Den ytterste delen ut mot byen er fra Eriks tid, han rev ytterveggen i Magnus sitt kastell og bygget på sin egen del. Du kan se spor etter den opprinnelige veggen. Dette er det eneste rommet som har hatt samme gulvnivå i alle byggeperiodene. Det var Erik som delte høyden på rommet i to. Dette var trolig det fornemste rommet, med et tilbygg ut gjennom døren midt på veggen ut til et karnapp over Vågen. Her finner du også et toalett. Rommet ble blant annet også brukt som Kongens sal under kong Christian IV besøk på 1600-tallet.
Herresalen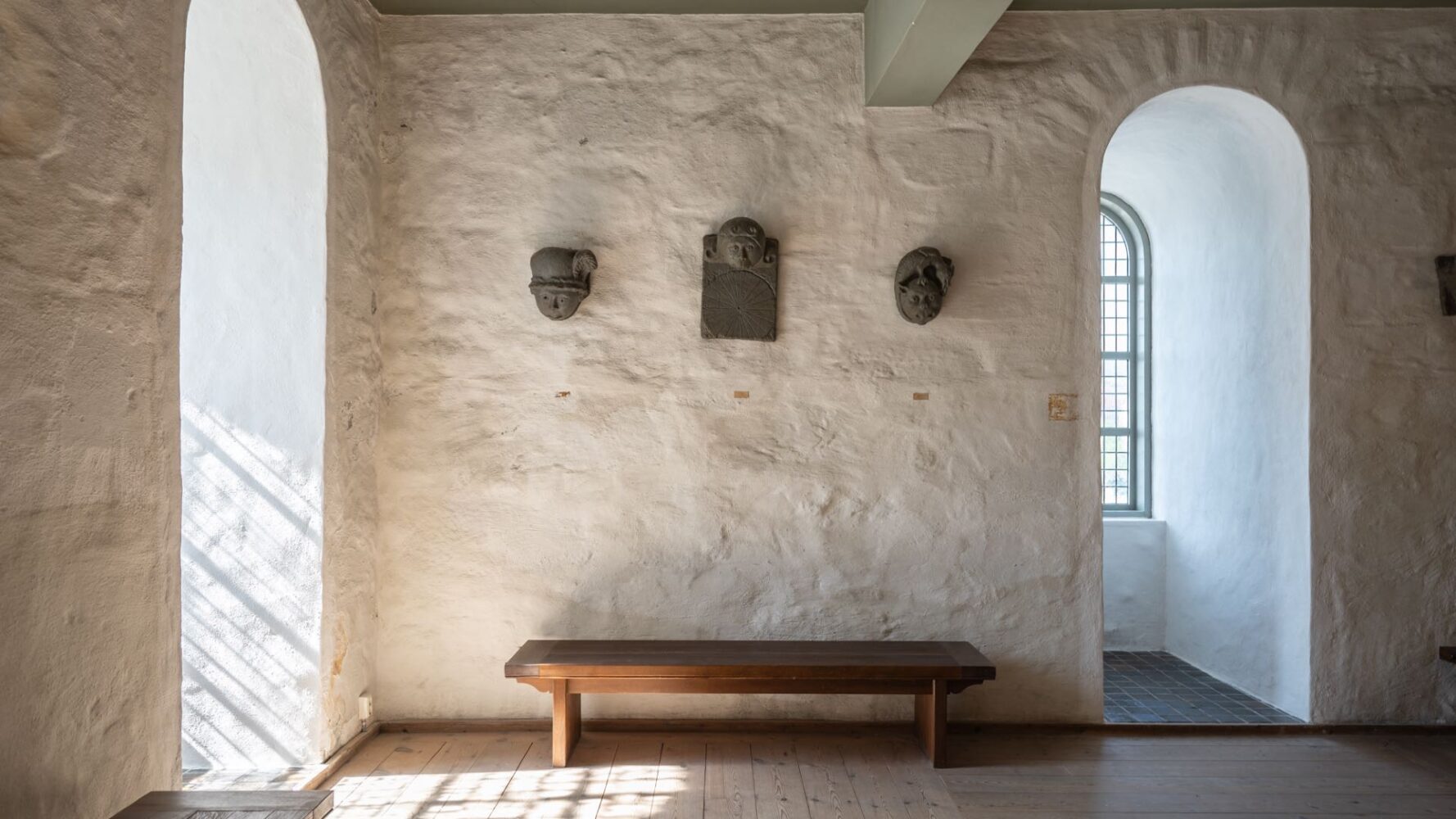 Erik Rosenkrantz fikk plass til enda et rom ved å dele Magnus kammers i to. Rommet ble brukt som ett av tårnets respresentasjonsrom, med en flott kamin på ene veggen. Du kan også se spor etter vinduene fra Magnus sitt kammers som kommer opp over gulvet.
Kanonloftet
Dette rommet ble tilført under Eriks tid, inndelt i to rom med en liten gang mellom. Her hadde man fri skuddbane til alle kanter. Eneste gang vi vet at tårnet og kanonene var i bruk, var under Slaget på Vågen i 1665. Her kan du lese mer om slaget og studere gamle kanoner.
På kanonloftet kan du gå opp tretrappen opp til loftet og ut på taket:
Loftet og taket
På loftet helt oppunder taket er det en utstilling om Kirkesenteret på Holmen (senere Bergenhus festning).
Kruttkamrene
Lukene i gulvet skjuler kastesjakter som står i forbindelse med firkantete åpninger på vestveggen i fru Helvigs kammer i etasjen under. Åpningene tjente som kastehull for steiner, kokende vann og tjære og skriver seg fra middelalderen da denne muren var yttervegg i kastellet. Slike kastesjakter eller «meurtrieres» var vanlige ledd i fortifikasjonssystemet.
Fru Helvigs kammer
Dette er et av renessanse-rommene Erik fikk oppført i den nye delen av tårnet. Her er det flotte vinduer og en fin kamin, rommet kunne nok brukes som et representasjonsrom. Her kan du også lese om rettssaken mot Anne Pedersdatter, som ble anklaget for trolldom. Fru Helvig og Anne var venninner i sin tid.
Herr Eriks kammer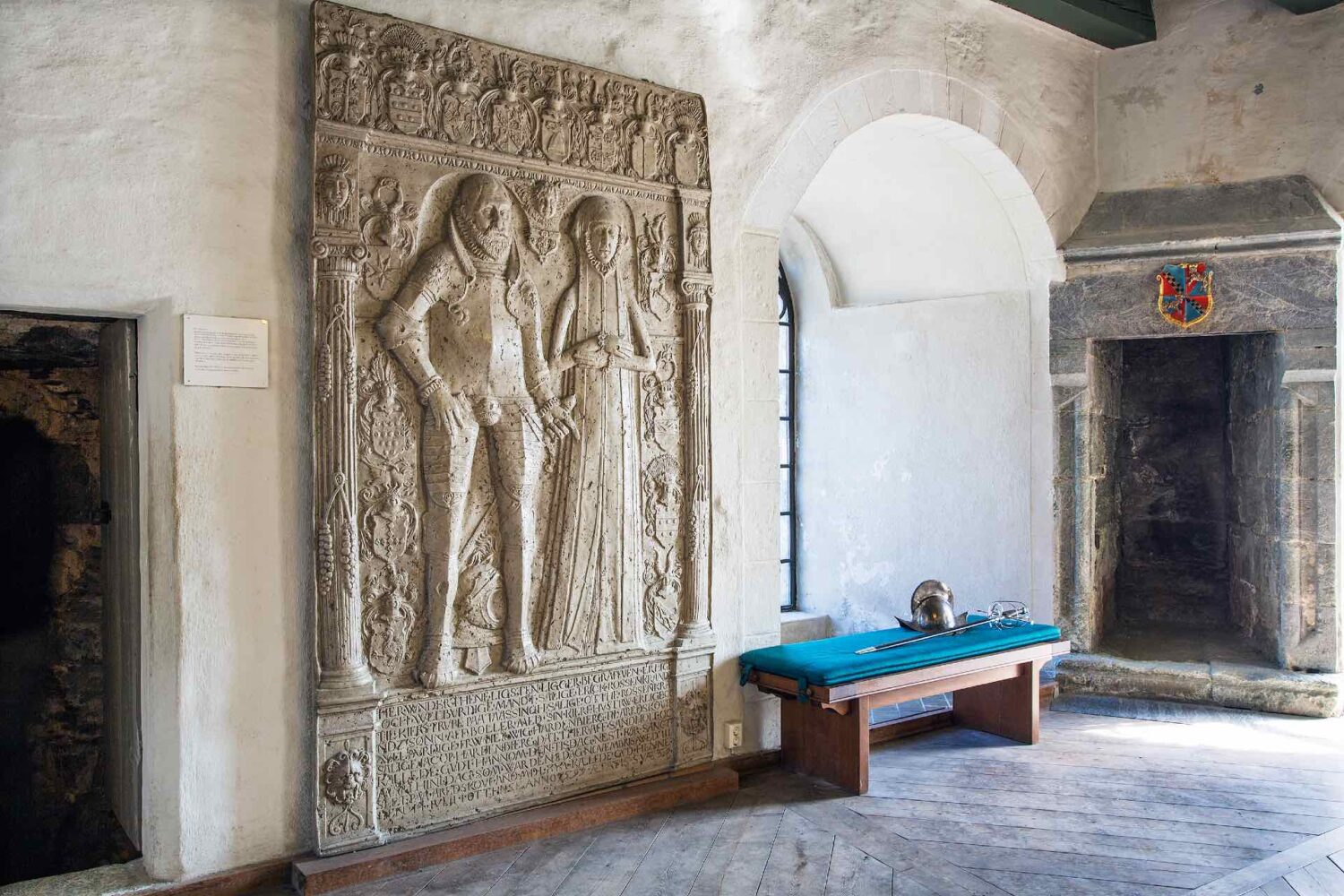 I etasjen under Fru Hedvigs kammer finner du Herr Eriks kammer. Her er det også flotte vinduer, det ene store med blyinnfatning er fra 1800-tallet. En stor, flott kamin er oppført i ene hjørnet, med Erik Rosenkrantz våpenskjold over. En kopi av ekteparets gravstein henger på veggen, originalen befinner seg i Arreskov kirke på Fyn i Danmark.
Den nye vaktstuen
Dette er det siste rommet i Eriks tårn. Han anla en ny vaktstue her. Bjelkesporene i veggen viser hvor forverket til Jørgen gikk.